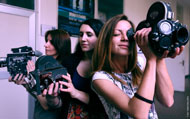 The video tutorial shows the practical implementation of the process to apply the theatrical approach to school.
They focus the attention on the shift (from vertical to horizontal) in the relation teachers/students.
The video tutorials are available with subtitles in English, Italian, Lithuanian and Romanian.

Video Tutorials
The transnational video and each one of the national videos present the experience carried out in the three countries involved in the project.
Each video is a tutorial to which interested teachers can refer to in order to implement the theatrical approach with their students.
In order to properly get all the benefits from the video tutorials, it is strongly recommended to:
Firstly, go through the guidelines
Secondly, watch the entire video from the beginning to the end
Transnational Video Tutorial
Lithuanian Video Tutorial