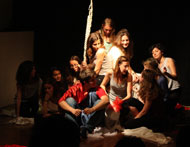 Findings from theatre laboratories
Practical Examples of Theatrical Laboratories

2.2. 2nd Case Outcomes
The final performance Sea Voyage debuts in April 2016, in the theatre. The event was free and opened to the whole citizenship. It was promoted by the school, the municipality and the teenagers themselves.

At the end, the student talked to the audience presenting the work and reported the process of creation of the performance. In some cases this discussion opened important dialogues with friends, teachers and family.

Both the show and the final talking happened again the day after, with a special second show for the students in the first and second years in school.

The project Sea Voyage also participated to a selection for students' performances in Mestre, near Venezia.

The whole group moved to Mestre on 18th May to perform in a contest of school theatres and it won the first prize. During the prize-giving, students still had the occasion to talk to the audience (made up of other school theatre groups) about their laboratory experience.

In this period a page about the theatre laboratory at school was created on the web site of the institute, and also a Facebook page. Furthermore, a WhatsApp group was activated and it has become a space where students could maintain relationships and develop further communication.

The reached results of the training are significant. Those who have participated in these projects never abandon school, they develop long lasting relationships with companions and other contemporaries, due to confidence and communication skills.

Teachers reported increased emotional control, participation in school and class life, more awareness of one's skills and of teamwork benefits.

Parents reported improvements in their children's emotional management and communication skills.

Moreover, getting passionate about a project makes a teenager less lethargic and more proactive at school and in general.

There are also many other outcomes, more difficult to match, because they are intimate and connected to the emotional, psychological and social growth of every individual.
Online Resources
Giorgio Gaber Award in New Generations - Freedom is participation"Giorgio Gaber Award in New Generations - Freedom is participation" annually hosts three workshops experience for each of the 20 Italian regions for a total of 60 theatrical educational projects, covering the whole Italian school system according to each grade. Groups of thousands of students and hundreds of teachers exchange their experiences in a shared three-day session, which represents an important moment of encounter, dialogue, human exchange and training.