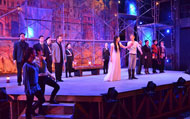 The role of theatre as a site for learning in a community context and how it can provide informal learning opportunities for young people experiencing social difficulty
Theatre as Experiential Learning Tool:
Step by Step Process to Implement Theatrical Laboratories in Classroom

1.5 Theatre Games within Theatre Laboratories Qualities; Final Conclusion
They favor the uniqueness and integrity in the development of the pupils' personality, through a wide range of exercised concepts of socialization and inclusiveness.
The aesthetic function of pupils' intelligence is intensified as they make contact with the world of metaphor and fiction and gives them an incentive to study and prepare for the labor market.
Theatre games develop creative thinking because they allow the students to find their own communication codes, to reach self-expression and to be at ease within a group with other students. This will lead to a healthy social personality of the adult to become.
By getting aware of their thoughts, body, voice and action and by accepting the others' actions in the group, students create aesthetical situations that lead to reflection, dialogue and constructive debate, therefore these situations help them later on to see life situations objectively.
The analysis of attitudes and ways of resolving conflicts - from the different roles that are played - fosters their set of values and principles that will help students in social life.
Theatre laboratories help students increase their power of taking decisions based on broader perspectives facilitated by the theatre exercises that also make them aware of the consequences of their decisions.
The theatre laboratories facilitate the insertion in the society of the students as the group work practiced there allows students to experience participation and involvement until they actively have results, cherishing the common effort.
Theatre games strengthen personal security because they enable the discovery of the students' own abilities, the interaction in the game and the reliability of the peers.
Students acquire the wonderful messages that art sends through them to their own future enhancing their expectancy and working for a better quality and harmony in their life and the life of the others.
To conclude with, we state that theatre games within Theatre laboratories prove to be a valuable asset in tackling early school leaving and absenteeism in secondary school education. They add to the acquisition of empathy, inclusion, non judgmental interaction among the students.
Online Resources
The following three web sites provide lessons on Theatre That Has Nothing to Do With Acting. They can help students become more assertive, more analytic, less judgemental, more empathetic and give them a holistic view of different social situations: