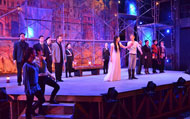 The role of theatre as a site for learning in a community context and how it can provide informal learning opportunities for young people experiencing social difficulty
Theatre as Experiential Learning Tool:
Step by Step Process to Implement Theatrical Laboratories in Classroom

6.4 Topics and Issues
OFF-Book Theatre Laboratories want to be a useful instrument to fight teenagers' difficulties, problems and discomforts, related to the school environment but not only. All these issues generally emerge from fears, lack of self-confidence, relational inabilities. So, OFF-Book proposes an artistic work on relations, emotions and communication skills. Using Theatre in Education (TIE) you can engage a positive process, working on bullying, social exclusion, racism, and other phenomena.

All these topics can be addressed in the theatre laboratory, openly, explicitly or not.

Sometimes it can be more effective to face some issues from other points of view, for example in an artistic way. You can see soon, that every kind of topic will deal with the project issues, if it gets involved in the teenager's life and thoughts. Arguments like love, friendship, identity, death, fear, rebellion, rage, war, freedom, metamorphosis, madness are all big boxes, containing everything students want to talk about.

Other interesting topics can be arguments related to our present time, like connections, digital world, the image power, terrorism, dictatorship, economics, Europe, woman and violence, genders, sex, religion, rights ...etc...

Even though you choose a reference book or one of these huge arguments, you must remember this is not school work done because students learn something about the world or literatures. They are all pretexts, excuses, to let the students speak about themselves.

Technically, during the circle time you can face the topic you choose, but in total openness, trying not to give students any answer or point of view. Let them go through the issue with their own instruments. Then ask them to prepare some proposals, in a theatrical language, and work on their suggestions.

You will soon see that the discussions on the topic, made after the physical and performative creation, are more concrete and intense and the students tend to be more open.

In conclusion, OFF-Book Theatre Labs work on students' problems very deeply, but not necessarily cards on the table. The theme chosen and the process made by theatrical techniques can facilitate a non aggressive approach, which could also be dangerous, according to different levels of sensitivity in the group.
Online Resources
Interventions on Students At-Risk of Dropping Out of School In creating strategies to address attendance, behavior and course performance it is important to plan prevention initiatives that affect all students, interventions that target smaller populations of students and personalized interventions that meet the individual needs of specific students. The charts provide examples of each of these.
Empathy and Moral development.The main issue of the paper understands the way in which empathy impacts on students' daily life and why.