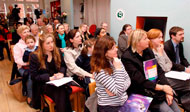 This section is meant to facilitate the sharing of information among partners as far as the dissemination events carried out are concerned.

A description of the event, the number of people participating and the evaluation of the event are available for each dissemination event.
Back to the Dissemination List
click here for the printable version

Partners' Institution:
University of Siena

Name of the person involved in the event:
Alessandra Viviani

Date of the event:
04 July 2019 - 04 July 2019

Type of Dissemination event:
National Meeting

Target group:
Teachers
Association

Number of people reached by event:
4

Held in:
Grosseto (Italy)

Description of Dissemination Event:
The dissemination took place during CISL Teachers' Trade Union meeting. The aim of the meeting focussed on the organisaton of future in Grosseto District schools, with special concern to education to democracy and human rights education. The experience of OFF- Book project was presented as an example of innovative practice for education towards social inclusion.

Outcomes and Results:
The attendees were enthusiatic about the approach adopted in the project and asked to be informed on the final achievements of the project, as they expressed their willingness to introduce OFF-Book methology in their classes.

Supporting Documents: