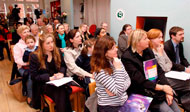 This section is meant to facilitate the sharing of information among partners as far as the dissemination events carried out are concerned.

A description of the event, the number of people participating and the evaluation of the event are available for each dissemination event.
Back to the Dissemination List
click here for the printable version

Partners' Institution:
University of Siena

Name of the person involved in the event:
Alessandra Viviani

Date of the event:
18 October 2019 - 18 October 2019

Type of Dissemination event:
Conference or Fair

Target group:
Students
Teachers
Experts
Universities

Number of people reached by event:
70

Held in:
Coimbra (Portugal)

Description of Dissemination Event:
A. Viviani's presentation was held during the 4th International Congress on Human Rights organised by Coimbra Human Rights Centre, UniSi associated partner in OFF-Book. The congress saw the attendance of academics, teachers, human rights activists and educators from Portugal and South America, in particular Brasil and Colombia. The dissemination event gave OFF Book the opportunity to reach a non EU audience.

Outcomes and Results:
The attendees became aware of the EU commitment in combating early school leaving by making school a friendly environment and adopting non formal education methods and tools.

Supporting Documents: