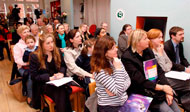 This section is meant to facilitate the sharing of information among partners as far as the dissemination events carried out are concerned.

A description of the event, the number of people participating and the evaluation of the event are available for each dissemination event.
Back to the Dissemination List
click here for the printable version

Partners' Institution:
University of Siena

Name of the person involved in the event:
Alessandra Viviani

Date of the event:
05 October 2019 - 05 October 2019

Type of Dissemination event:
Training Seminar

Target group:
Teachers

Number of people reached by event:
45

Held in:
Lucca (Italy)

Description of Dissemination Event:
OFF Book dissemination took place during a half day training seminar for school teachers,organised by the City of Lucca Municipality and Unicef Italia. The training was held at San Romano Church. During the seminar prof. A. Viviani (UniSi team co-ordinator) presented the project aims and results. Viviani talked at lenghth about the Teachers' Guidelines and showed the video promo of the project. The trainees were given the project brochure and invited to follow/subscribe OFF Book YouTube Channel.

Outcomes and Results:
The attendees showed their interest and appreciation for the project results.
After the showing of the video, a group of teachers started discussing how to apply OFF Book methodology in their schools.

Supporting Documents: