Associated Partners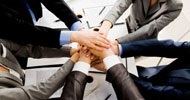 As a result of the exploitation activity a number of associated partners officially joined the project in order to contribute to the improvement of the project impact on their target groups and to ensure the project sustainability by continuing using the project deliverables in the next years.

The associate partners of the OFF-Book project are organizations interested in promoting the application of theatrical approach at school. All associated partners share the project objectives and are willing to contribute to their achievement.

Institutions and organisations interested in becoming associated partners of the OFF-Book project can contact the national coordinators of the project.
Back to the Associated Partners
NAME OF THE ORGANISATION
EuroEd Parents Association
TYPE OF INSTITUTION
Parents Association
NAME OF CONTACT PERSON
Ionuț Zlate
BRIEF DESCRIPTION OF THE ORGANISATION
EuroEd Parents Association brings together the parents of the children enrolled in the EuroEd Kindergarten and primary School with the purpose to discuss and solve all the problems encountered during the school period. They have regular meetings on different topics: planning activities, discussing problems, preparing/organizing events, etc. The role of the association is to develop a strong collaboration with the teachers and to get involved in the educational development of their children.
HOW THE ORGANISATION WILL CONTRIBUTE TO THE DISSEMINATION AND EXPLOITATION OF THE PROJECT RESULTS
Exchange of experience and expertise during and after the project
• Participation in the Dissemination of the project information
• Promotion of the information about the project to our network of contacts
• Contribution to exploitation and sustainability of the project results