Associated Partners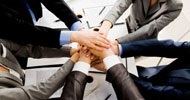 As a result of the exploitation activity a number of associated partners officially joined the project in order to contribute to the improvement of the project impact on their target groups and to ensure the project sustainability by continuing using the project deliverables in the next years.

The associate partners of the OFF-Book project are organizations interested in promoting the application of theatrical approach at school. All associated partners share the project objectives and are willing to contribute to their achievement.

Institutions and organisations interested in becoming associated partners of the OFF-Book project can contact the national coordinators of the project.
Back to the Associated Partners
NAME OF THE ORGANISATION
Ordinesparso
TYPE OF INSTITUTION
Cultural Association
ADDRESS
Via Navonella, 3 - 19038
NAME OF CONTACT PERSON
Giovanni Berretta
BRIEF DESCRIPTION OF THE ORGANISATION
"Ordinesparso" is a cultural association born in 2004 in order to construct a theatre company never still and, on the contrary, always active on the theatre research. The main target of Ordinesparso is the realization of theatre performances, theatrical laboratories (for schools, young people and adults) and festivals management. For 9 years the association organizes NIN Nuove Interpretazioni (New Interpretations), one of the biggest festivals of its territory that every year accomodates theatre and dance company and artists in general coming from all over Italy. All these years the association has collaborated with hundreds of people especially about the laboratories activity addressed to the schools (students and teachers).
HOW THE ORGANISATION WILL CONTRIBUTE TO THE DISSEMINATION AND EXPLOITATION OF THE PROJECT RESULTS
Ordinesparso will contribute to the dissemination and exploitation of the project results directly through the laboratories activity especially addressed to students and teachers, but also creating and realizing meetings during the main festivals and workshops organized in which will present the project guidelines in theoretical way but also with practical demonstrations (such as the laboratory itself) in the presence of politicians and experts in the field too.