Associated Partners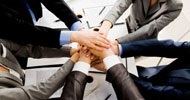 As a result of the exploitation activity a number of associated partners officially joined the project in order to contribute to the improvement of the project impact on their target groups and to ensure the project sustainability by continuing using the project deliverables in the next years.

The associate partners of the OFF-Book project are organizations interested in promoting the application of theatrical approach at school. All associated partners share the project objectives and are willing to contribute to their achievement.

Institutions and organisations interested in becoming associated partners of the OFF-Book project can contact the national coordinators of the project.
Back to the Associated Partners
NAME OF THE ORGANISATION
Geometria delle Nuvole
TYPE OF INSTITUTION
Cultural Association
ADDRESS
Loc. Paduletto, 1 - 57023
NAME OF CONTACT PERSON
Giulia Paoli
Giulia Paoli - Ilaria Fontanelli - Chiara Pistoia
BRIEF DESCRIPTION OF THE ORGANISATION
"Geometria delle Nuvole" is a cultural association born in 2015 with the main purpose to create an educational projects network addressed to schools of all types and levels, families and citizens thanks to a dynamic relationship with other similar associations working in the theatrical and artistic field and also theatres and spaces designed to cultural dissemination. The association theatrical project finds its strength in multidisciplinarity, infact every member of the association brings different competences and personal artistic researches, so it could always ensure opportunities of confrontation and exchange throughout theatrical performances, theatrical spaces managements, festival organization and, above all, promotion of theatrical laboratories addressed to schools and public too.
HOW THE ORGANISATION WILL CONTRIBUTE TO THE DISSEMINATION AND EXPLOITATION OF THE PROJECT RESULTS
Geometria delle Nuvole will contribute to the dissemination and exploitation of the projects results through the laboratories activity realized in the schools and, in particular, through publication on its web site and disclosure and provision of project products (guidelines and videos) to school teachers, school managers, politicians and educationals officials in every daily meeting.