Associated Partners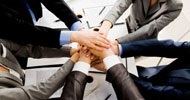 As a result of the exploitation activity a number of associated partners officially joined the project in order to contribute to the improvement of the project impact on their target groups and to ensure the project sustainability by continuing using the project deliverables in the next years.

The associate partners of the OFF-Book project are organizations interested in promoting the application of theatrical approach at school. All associated partners share the project objectives and are willing to contribute to their achievement.

Institutions and organisations interested in becoming associated partners of the OFF-Book project can contact the national coordinators of the project.
Back to the Associated Partners
NAME OF THE ORGANISATION
ScenaMadre
TYPE OF INSTITUTION
Cultural Association
ADDRESS
Salita Sant'Erasmo 5/3 - 16033
NAME OF CONTACT PERSON
Marta Abate
BRIEF DESCRIPTION OF THE ORGANISATION
"ScenaMadre" is a cultural association directed towards the thatrical and pedagogical research. The association works to find new methods of communication to much better know people and its thoughts, fears, emotions. The main issue of ScenaMadre is to produce theatre performances with educational and social themes and, in particular, to realize theatre laboratories addressed to children, young people, adults and elderly persons too. For several years the Association organizes educational projects in various locations and situations such as theatres, festivals, cultural centres and schools in many italian regions (Liguria, Piemonte, Toscana, Lombardia, Emilia Romagna) and France.
HOW THE ORGANISATION WILL CONTRIBUTE TO THE DISSEMINATION AND EXPLOITATION OF THE PROJECT RESULTS
ScenaMadre will contribute to the dissemination and exploitation of the project results throuhgout the realization of theatre laboratories addressed to schools and in particular through specific trainig projects addressed to teachers and in general to people working in the world of the new generations (such as similar associations).