Associated Partners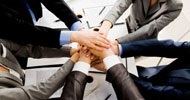 As a result of the exploitation activity a number of associated partners officially joined the project in order to contribute to the improvement of the project impact on their target groups and to ensure the project sustainability by continuing using the project deliverables in the next years.

The associate partners of the OFF-Book project are organizations interested in promoting the application of theatrical approach at school. All associated partners share the project objectives and are willing to contribute to their achievement.

Institutions and organisations interested in becoming associated partners of the OFF-Book project can contact the national coordinators of the project.
Back to the Associated Partners
NAME OF THE ORGANISATION
Sf.Sava Kindergarten
TYPE OF INSTITUTION
Kindergarten
ADDRESS
Str. Sf. Sava nr.9
NAME OF CONTACT PERSON
Iliana Gorea
BRIEF DESCRIPTION OF THE ORGANISATION
The kindergarten PP "Sf. Sava "has been operating since 1951 as a state institution for pre-school education with legal personality. According to the inspection reports from the data: from January 16, 1961, the kindergarten worked a period with groups having a normal schedule (3 groups with 75 children) and bearing the name of kindergarten PP no.5, Iasi and in 1966 founded and fourth group (114 children enrolled). In the year 1978 the kindergarten operates with 7 groups with 275 children enrolled and in 1982 there are 8 groups with a number of 310 children enrolled. The name of the kindergarten was changed in 1998 with the name of kindergarten PP "Sf. Sava "Iasi.
HOW THE ORGANISATION WILL CONTRIBUTE TO THE DISSEMINATION AND EXPLOITATION OF THE PROJECT RESULTS
• Exchange of experience and expertise during and after the project
• Participation in the Dissemination of the project information
• Promotion of the information about the project to our network of contacts
• Contribution to exploitation and sustainability of the project results