Associated Partners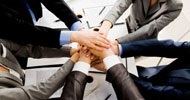 As a result of the exploitation activity a number of associated partners officially joined the project in order to contribute to the improvement of the project impact on their target groups and to ensure the project sustainability by continuing using the project deliverables in the next years.

The associate partners of the OFF-Book project are organizations interested in promoting the application of theatrical approach at school. All associated partners share the project objectives and are willing to contribute to their achievement.

Institutions and organisations interested in becoming associated partners of the OFF-Book project can contact the national coordinators of the project.
Back to the Associated Partners
NAME OF THE ORGANISATION
Children's Palace
TYPE OF INSTITUTION
Public education center
ADDRESS
B-dul CAROL I nr.2
NAME OF CONTACT PERSON
ADRIAN GELU DOBRANICI
BRIEF DESCRIPTION OF THE ORGANISATION
Established in 1953, under the name of the Pioneers' House, including a number of seven courses/disciplines, now a well-known Children's Palace, dynamically stronger in terms of number of disciplines and their diversity. In the benefit of the children can be used a number of 55 courses with profile for cultural-artistic, technical-scientific, technical-applicative and sports-tourist fields.
HOW THE ORGANISATION WILL CONTRIBUTE TO THE DISSEMINATION AND EXPLOITATION OF THE PROJECT RESULTS
Support in dissemination of the project results and methodology to the teachers and children under collaboration. Further insertion of the OFFBOOK principles in the institutional activities.