Associated Partners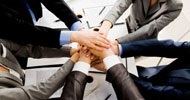 As a result of the exploitation activity a number of associated partners officially joined the project in order to contribute to the improvement of the project impact on their target groups and to ensure the project sustainability by continuing using the project deliverables in the next years.

The associate partners of the OFF-Book project are organizations interested in promoting the application of theatrical approach at school. All associated partners share the project objectives and are willing to contribute to their achievement.

Institutions and organisations interested in becoming associated partners of the OFF-Book project can contact the national coordinators of the project.
Back to the Associated Partners
NAME OF THE ORGANISATION
Miron Costin High School
TYPE OF INSTITUTION
Public school
ADDRESS
str. Musatini, nr 12, Iasi
NAME OF CONTACT PERSON
Dobre Viorica
BRIEF DESCRIPTION OF THE ORGANISATION
Theoretical High School "Miron Costin" Iasi is an educational institution that promotes a modern education, based on European values and principles, and assures students a secure, stimulating and participative training climate and at the same time facilitates the integration of graduates into the contemporary society by capitalizing on the individual potential and institutional.
HOW THE ORGANISATION WILL CONTRIBUTE TO THE DISSEMINATION AND EXPLOITATION OF THE PROJECT RESULTS
• Exchange of experience and expertise during and after the project
• Participation in the Dissemination of the project information
• Promotion of the information about the project to our network of contacts
• Contribution to exploitation and sustainability of the project results