Associated Partners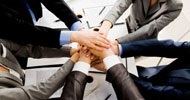 As a result of the exploitation activity a number of associated partners officially joined the project in order to contribute to the improvement of the project impact on their target groups and to ensure the project sustainability by continuing using the project deliverables in the next years.

The associate partners of the OFF-Book project are organizations interested in promoting the application of theatrical approach at school. All associated partners share the project objectives and are willing to contribute to their achievement.

Institutions and organisations interested in becoming associated partners of the OFF-Book project can contact the national coordinators of the project.
Back to the Associated Partners
NAME OF THE ORGANISATION
Skuodo krašto bendruomenė
TYPE OF INSTITUTION
Association
ADDRESS
Mokyklos g. 2, Luknių km., Skuodo raj.
WEB SITE
www.skuodokrastas.lt, www.facebook.com/groups/17263446271832
NAME OF CONTACT PERSON
Laura Šamonskytė-Stanienė
BRIEF DESCRIPTION OF THE ORGANISATION
The community "Skuodo krašto bendruomenė" is involved in urban projects providing complex services to families in Skuodas district. We organize seminars, camps, activities for families, children and teenagers.
HOW THE ORGANISATION WILL CONTRIBUTE TO THE DISSEMINATION AND EXPLOITATION OF THE PROJECT RESULTS
We hope to incorporate proposed methodology of project OFF BOOK into activities, camps for children, families.