Associated Partners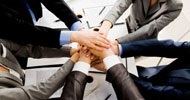 As a result of the exploitation activity a number of associated partners officially joined the project in order to contribute to the improvement of the project impact on their target groups and to ensure the project sustainability by continuing using the project deliverables in the next years.

The associate partners of the OFF-Book project are organizations interested in promoting the application of theatrical approach at school. All associated partners share the project objectives and are willing to contribute to their achievement.

Institutions and organisations interested in becoming associated partners of the OFF-Book project can contact the national coordinators of the project.
Back to the Associated Partners
NAME OF THE ORGANISATION
Laboratory for Experimental Creative Thinking
TYPE OF INSTITUTION
Limited liability company
NAME OF CONTACT PERSON
Andrius Chomičius
BRIEF DESCRIPTION OF THE ORGANISATION
The vision of organization is to provide an inspiring and empowering environment for learning together. All products and services are designed to create such an environment. The main field of activity is learning. Therefore, organization devote most of them time to activities in education. Organization currently focusing on rendering mathematical school content. The latest product, PLAYmath 1-2-3-4, is a series of 15 educational games that contain all the math content in grades 1-4. Students interact, collaborate, learn and help each other learn by playing. These games allow them to enrich each other's thinking and insights.
HOW THE ORGANISATION WILL CONTRIBUTE TO THE DISSEMINATION AND EXPLOITATION OF THE PROJECT RESULTS
Organization will use OFF BOOK methodology in their practise, disseminate information to teachers and students in remote cities of Lithuania.