Associated Partners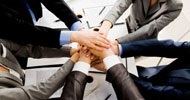 As a result of the exploitation activity a number of associated partners officially joined the project in order to contribute to the improvement of the project impact on their target groups and to ensure the project sustainability by continuing using the project deliverables in the next years.

The associate partners of the OFF-Book project are organizations interested in promoting the application of theatrical approach at school. All associated partners share the project objectives and are willing to contribute to their achievement.

Institutions and organisations interested in becoming associated partners of the OFF-Book project can contact the national coordinators of the project.
Back to the Associated Partners
NAME OF THE ORGANISATION
Cinigiano Municipality
TYPE OF INSTITUTION
Municipality
ADDRESS
Piazzale Cap. Bruchi,3 - 58044
WEB SITE
www.comune.cinigiano.gr.it
NAME OF CONTACT PERSON
Orietta Barzagli (Deputy Major)
BRIEF DESCRIPTION OF THE ORGANISATION
Cinigiano is an Italian common in the district of Grosseto (Tuscany - Italy). This little common born around a medieval castle in the XII century and enter in the Kingdom of Italy in 1589. Nowadays the entire common territory counts 2600 inhabitants (fractions included), while only Cinigiano counts 600 inhabitants.
Cinigiano is very important for the Grosseto district because has a relevant impact about the cultivation and production of wine (Montecucco wine). Cinigiano territory is characterised by various traditions such as "Chestnut Feast", "Grape Feast", "Eel Feast" that promote some culinary typical products.
In Cinigiano there are Nursery Schools, Primary Schools, Lower Schools, a theatre, a library, a school music and an historic brass band ("Ruggero Francisci Philarmonic"). Cinigiano Municipality, in the person of the Major Romina Sani, reserves a particular attention to the new generations throughout the promotion and the realization of important socio-educational projects dedicated to young people, especially in the world of School.
HOW THE ORGANISATION WILL CONTRIBUTE TO THE DISSEMINATION AND EXPLOITATION OF THE PROJECT RESULTS
Cinigiano Municipality will contribute to the dissemination and exploitation of the projects results througout all the socio-educational projects promoted and realized in the schools, through the Summer theatrical Camps in which participate about 70 students, theatre educators and teachers coming from all over Italy and also with a specific promotion of the OFF-Book portal throughout socials and web site.