Associated Partners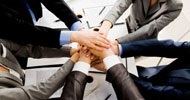 As a result of the exploitation activity a number of associated partners officially joined the project in order to contribute to the improvement of the project impact on their target groups and to ensure the project sustainability by continuing using the project deliverables in the next years.

The associate partners of the OFF-Book project are organizations interested in promoting the application of theatrical approach at school. All associated partners share the project objectives and are willing to contribute to their achievement.

Institutions and organisations interested in becoming associated partners of the OFF-Book project can contact the national coordinators of the project.
Back to the Associated Partners
NAME OF THE ORGANISATION
Livello 4
TYPE OF INSTITUTION
Cultural Association
ADDRESS
Via Prà del Monte, 29 - 36078
NAME OF CONTACT PERSON
Alessandro Sanmartin
BRIEF DESCRIPTION OF THE ORGANISATION
"Livello 4" is a cultural association born in 2010 in Valdagno (VI) with the general purpose to offer cultural alternatives in its territory. In particular it works to produce theatre plays, to organize cultural events and to promote theatre laboratories in the schools (for students and teachers). Since 2012, with CRASHTEST THEATRE FESTIVAL (in collaboration with the municipality of Valdagno and OperaEstate Festival Veneto) the Association cooperates every year with young theatre and ballet companies, artists and critics througout performances, meetings and laboratories for actors, young people and all the audience in general. The main issue of Livello 4 is to promote training activities through the theatre because Theatre and Contamination in general can be an essential tool for working on identity, group, expression, emotions, relationship.
HOW THE ORGANISATION WILL CONTRIBUTE TO THE DISSEMINATION AND EXPLOITATION OF THE PROJECT RESULTS
The Association will contribute to the dissemination and exploitation of the project results mainly throughout its laboratories activity. Infact, through the theatre laboratories realized in the schools and addressed to students and teachers, the theatre operators and educators will directly put into practice the new methodologies described and promoted in the OFF Book project. By doing so the association will be able to achieve also many other teachers not directed involved in the labs that will have the possibility to know the project and that could decide to join themselves the project in the future. Obviously, every opportunity for meetings (for example performances and festivals) will be the chance for Livello 4 to present the project and to expose its results to the audience.