Associated Partners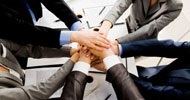 As a result of the exploitation activity a number of associated partners officially joined the project in order to contribute to the improvement of the project impact on their target groups and to ensure the project sustainability by continuing using the project deliverables in the next years.

The associate partners of the OFF-Book project are organizations interested in promoting the application of theatrical approach at school. All associated partners share the project objectives and are willing to contribute to their achievement.

Institutions and organisations interested in becoming associated partners of the OFF-Book project can contact the national coordinators of the project.
Back to the Associated Partners
NAME OF THE ORGANISATION
ErmoColle
TYPE OF INSTITUTION
Social Promotion Association
CITY
Tizzano Val Parma (PR)
ADDRESS
Via F.lli Ferrari, 2 - 43028
WEB SITE
www.ermocolle.eu
NAME OF CONTACT PERSON
Silvana Piazza
BRIEF DESCRIPTION OF THE ORGANISATION
Ermo Colle was founded in 2001 with the aim of promoting culture through all its artistic forms. To achieve the goal, the association aims to: produce, disseminate, organize and manage theatre, music, dance shows and other services in the field of culture and entertainment; to collaborate and/or take on assignments from organizations, public institutions and associations for any cultural, educational and touristic event, related to this field; to promote, manage and collaborate to activities within schools and educational activities in general; to promote and take part to study and research initiatives.
Since 2001 it has organized, in collaboration with public bodies (such as Regione Emilia Romagna, Parma District and various municipalities in Parma and Reggio Emilia Districts) the Theatre Poetry and Music Competition Ermo Colle, nationally recognized as an important event, unique of its kind, so that in 2004 the competition received the Culture Management Award from Federcultura.
In collaboration with the Municipal Administrations and several scholastic Institutes Ermo Colle conducts theater workshops for children and young people in various municipalities in Parma Districts. The productions realized as results of the laboratories have obtained several awards both on a regional and a national scale.
HOW THE ORGANISATION WILL CONTRIBUTE TO THE DISSEMINATION AND EXPLOITATION OF THE PROJECT RESULTS
Ermo Colle will contribute to the dissemination and exploitation of the project results through the laboratories activity realized in the schools and by advertising it on its website. Moreover the association will apply OFF-Book methods and results whenever they can give an added value to its educational and training activities.