Associated Partners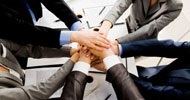 As a result of the exploitation activity a number of associated partners officially joined the project in order to contribute to the improvement of the project impact on their target groups and to ensure the project sustainability by continuing using the project deliverables in the next years.

The associate partners of the OFF-Book project are organizations interested in promoting the application of theatrical approach at school. All associated partners share the project objectives and are willing to contribute to their achievement.

Institutions and organisations interested in becoming associated partners of the OFF-Book project can contact the national coordinators of the project.
Back to the Associated Partners
NAME OF THE ORGANISATION
Liceul Tehnologic de Transporturi si de Constructii
TYPE OF INSTITUTION
Vocational high school
ADDRESS
Bulevardul Socola Nr. 82
NAME OF CONTACT PERSON
ROZNOVAN ANCA EUGENTINA
BRIEF DESCRIPTION OF THE ORGANISATION
The technological high school of transport and construction, its a vocational high school with professional training in the filed of transport and construction
HOW THE ORGANISATION WILL CONTRIBUTE TO THE DISSEMINATION AND EXPLOITATION OF THE PROJECT RESULTS
Teachers will present project OFF-BOOK in local meetings, and they will use exercises provided by the project in their classrooms.