Associated Partners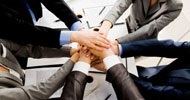 As a result of the exploitation activity a number of associated partners officially joined the project in order to contribute to the improvement of the project impact on their target groups and to ensure the project sustainability by continuing using the project deliverables in the next years.

The associate partners of the OFF-Book project are organizations interested in promoting the application of theatrical approach at school. All associated partners share the project objectives and are willing to contribute to their achievement.

Institutions and organisations interested in becoming associated partners of the OFF-Book project can contact the national coordinators of the project.
Back to the Associated Partners
NAME OF THE ORGANISATION
Liceul Tehnologic Econimic de Turism, Iasi
TYPE OF INSTITUTION
Public Body/ High School
ADDRESS
Str. Milcov, Nr. 11
NAME OF CONTACT PERSON
Țugui Iuliana
BRIEF DESCRIPTION OF THE ORGANISATION
Liceul Tehnologic Econimic de Turism is a vocation high school, which prepares students for the labor market, with professional training in the field of tourism and food, economic and trade. Students attending this high school are in number of 700 and teachers approx. 150.
HOW THE ORGANISATION WILL CONTRIBUTE TO THE DISSEMINATION AND EXPLOITATION OF THE PROJECT RESULTS
The organisation will use OFF-BOOK material to use them in class by the teachers, and for dissemination they will present project OFF-BOOK in other types of meeting between the teachers from other schools.