Associated Partners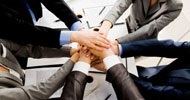 As a result of the exploitation activity a number of associated partners officially joined the project in order to contribute to the improvement of the project impact on their target groups and to ensure the project sustainability by continuing using the project deliverables in the next years.

The associate partners of the OFF-Book project are organizations interested in promoting the application of theatrical approach at school. All associated partners share the project objectives and are willing to contribute to their achievement.

Institutions and organisations interested in becoming associated partners of the OFF-Book project can contact the national coordinators of the project.
Back to the Associated Partners
NAME OF THE ORGANISATION
Education Development Center
TYPE OF INSTITUTION
Public institution, financed by the Ministry of Education and Science
ADDRESS
M. Katkaus str. 44
NAME OF CONTACT PERSON
Žydrė Jankevičienė
BRIEF DESCRIPTION OF THE ORGANISATION
Education Development Centre (EDC) is the biggest institution affiliate to the Ministry of Education and Science of the Republic of Lithuania providing educational support in the field of pre-school, primary and general education.
EDC staff consists of more than 100 professionals in education.
HOW THE ORGANISATION WILL CONTRIBUTE TO THE DISSEMINATION AND EXPLOITATION OF THE PROJECT RESULTS
Education Development Centre undertakes to share information about project with interested parties via available information channels, to present project results to teachers and other pedagogical staff with, to use results for development and implementation of general education content.