Associated Partners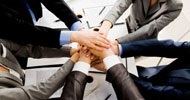 As a result of the exploitation activity a number of associated partners officially joined the project in order to contribute to the improvement of the project impact on their target groups and to ensure the project sustainability by continuing using the project deliverables in the next years.

The associate partners of the OFF-Book project are organizations interested in promoting the application of theatrical approach at school. All associated partners share the project objectives and are willing to contribute to their achievement.

Institutions and organisations interested in becoming associated partners of the OFF-Book project can contact the national coordinators of the project.
Back to the Associated Partners
NAME OF THE ORGANISATION
Naujoji Akmene Public Library
TYPE OF INSTITUTION
Public Library
ADDRESS
V. Kudirka st.9 LT-85165 Naujoji Akmenė
NAME OF CONTACT PERSON
Aurelija Gerulskiene
BRIEF DESCRIPTION OF THE ORGANISATION
It is a public library in Naujoji Akmene. This institution is active in non-formal youngsters' education, they have teenagers' center and everyday activities for children of various age.
HOW THE ORGANISATION WILL CONTRIBUTE TO THE DISSEMINATION AND EXPLOITATION OF THE PROJECT RESULTS
The organisation is willing to participate in OFF-Book product sharing and organizing the practical workshops for children as well as for educators and teachers.