Associated Partners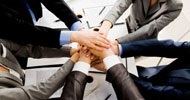 As a result of the exploitation activity a number of associated partners officially joined the project in order to contribute to the improvement of the project impact on their target groups and to ensure the project sustainability by continuing using the project deliverables in the next years.

The associate partners of the OFF-Book project are organizations interested in promoting the application of theatrical approach at school. All associated partners share the project objectives and are willing to contribute to their achievement.

Institutions and organisations interested in becoming associated partners of the OFF-Book project can contact the national coordinators of the project.
Back to the Associated Partners
NAME OF THE ORGANISATION
Colegiul National Ion Minulescu
TYPE OF INSTITUTION
Public School
ADDRESS
Str. Basarabilor, nr. 33
NAME OF CONTACT PERSON
Miu Claudia
BRIEF DESCRIPTION OF THE ORGANISATION
Public school. Located in city Slatina, sud part of Romania. Was established in the year 1963 by the name "Scoala Media No. 2. ". Actual name Colegiul National " Ion Minulescu" comes from the year 1999. In our days is considered an elite high school. The school has also primary and secondary classes.
HOW THE ORGANISATION WILL CONTRIBUTE TO THE DISSEMINATION AND EXPLOITATION OF THE PROJECT RESULTS
Contact person from this school will disseminate project result in different meetings like: teaching staff meetings, methodical meetings with teachers. From there teachers will be able to apply project result in classes activities.