Associated Partners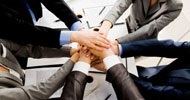 As a result of the exploitation activity a number of associated partners officially joined the project in order to contribute to the improvement of the project impact on their target groups and to ensure the project sustainability by continuing using the project deliverables in the next years.

The associate partners of the OFF-Book project are organizations interested in promoting the application of theatrical approach at school. All associated partners share the project objectives and are willing to contribute to their achievement.

Institutions and organisations interested in becoming associated partners of the OFF-Book project can contact the national coordinators of the project.
Back to the Associated Partners
NAME OF THE ORGANISATION
Klaipeda Aukuras Gymnasium
TYPE OF INSTITUTION
Public
ADDRESS
Statybininkų pr. 7, Klaipeda
WEB SITE
www.aukuras.klaipeda.lm.lt
NAME OF CONTACT PERSON
Lygija Virkšienė
BRIEF DESCRIPTION OF THE ORGANISATION
The gymnasium implements basic, secondary and non-formal education programs for children Gymnasium is completing classes in which elements of the conception of the artistic activity and of humanistic culture are implemented. There is an Emile class where pupils learn according to an international integrated subject and foreign language project. There are conditions for meeting pupils' abilities, self-expression and choosing theatrical, artistic, ethnocultural. sporting and other subjects Gymnasium participates in international Erasmus+ and national projects Leadership time 3
HOW THE ORGANISATION WILL CONTRIBUTE TO THE DISSEMINATION AND EXPLOITATION OF THE PROJECT RESULTS
Gymnasium undertakes to share information about project with interested parties via available information channels, to present project results to teachers and other pedagogical staff with, to use results for development and implementation of general education content.