Associated Partners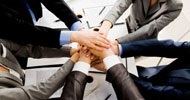 As a result of the exploitation activity a number of associated partners officially joined the project in order to contribute to the improvement of the project impact on their target groups and to ensure the project sustainability by continuing using the project deliverables in the next years.

The associate partners of the OFF-Book project are organizations interested in promoting the application of theatrical approach at school. All associated partners share the project objectives and are willing to contribute to their achievement.

Institutions and organisations interested in becoming associated partners of the OFF-Book project can contact the national coordinators of the project.
Back to the Associated Partners
NAME OF THE ORGANISATION
Associazione Danzarte
TYPE OF INSTITUTION
Cultural Association
CITY
Grottaferrata (Roma)
ADDRESS
via della Pedica, 350
NAME OF CONTACT PERSON
Cristina Colonnetti
BRIEF DESCRIPTION OF THE ORGANISATION
The association was founded in April 1995 with the aim of promoting the learning and
dissemination of different artistic, cultural and sporting expressions, with particular
attention to the world of youth and in the perspective of an integral development of the
human person as well as the continuous improvement of the technical and professional
skills of its members. In the last 10 years the association has mainly promoted cultural
events, has produced theatrical performances for young people, forming its own company
of professional actors and giving life to numerous creative workshops, theater-counseling
and theater and movement in the supreme schools of Rome and Province.
Our aim is to create a space in which young people can find their own expressive channel
respecting the freedom and diversity of everyone, enhancing the beauty of finding each
other to create something together building a relationship of trust based on listening to the
other members of the group mutual and the desire to tell and tell stories, making them
"happen" on the stage, becoming active promoters of culture.
HOW THE ORGANISATION WILL CONTRIBUTE TO THE DISSEMINATION AND EXPLOITATION OF THE PROJECT RESULTS
Associazione Danzarte intends to promote the project through its website and to make
them aware, even through its own mailing list, all the people who over the years have
approached our reality.We will also disseminate the informative material of the project to each event or event
organized by us and present the project to the working and study groups (for example to
the 8/9 groups of school theatrical workshops that will take place this year and in the next
years) and to people who will come in contact with our association. We also commit
ourselves to start training courses for teachers and educators based on the guidelines of
the project itself and to collaborate in any way will be possible.