Associated Partners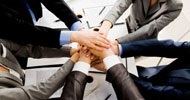 As a result of the exploitation activity a number of associated partners officially joined the project in order to contribute to the improvement of the project impact on their target groups and to ensure the project sustainability by continuing using the project deliverables in the next years.

The associate partners of the OFF-Book project are organizations interested in promoting the application of theatrical approach at school. All associated partners share the project objectives and are willing to contribute to their achievement.

Institutions and organisations interested in becoming associated partners of the OFF-Book project can contact the national coordinators of the project.
Back to the Associated Partners
NAME OF THE ORGANISATION
Klaipeda Gedminai progymnasium
TYPE OF INSTITUTION
Public
ADDRESS
Gedminų str. 3, Klaipeda
NAME OF CONTACT PERSON
Asta Jankauskienė
BRIEF DESCRIPTION OF THE ORGANISATION
Klaipėda Gedminai progymnasium has 850 students and more than 70 teachers. The school is active and well known for its activities of the Tolerance Education Centre, Ethno culture centre and also after school activities. The school is attractive to students and their parents, as much attention is paid to the quality of education, students' art education (there are established purposeful classes of education of art, theatre, and dance). The school is not limited to a single standard. Since 2012, there are classes, applying the Waldorf pedagogy items. Progymnasium is always open for innovations and takes part in the Education Improvement, Renovation, Partnership (Comenius, Nordplus, Erasmus +) Projects. School community raised the priority to become a leader in the application of IT in the region. A lot of attention is paid to the curriculum of information technology and its integration with other subjects. Many teachers have created web pages for their classes; they also successfully use the latest IT tools and training programs in the learning process. Progymnasium is open for innovations, reaching the highest quality of education. The school has a lot of innovative and energetic teachers who want to improve the educational process, to make it acceptable for modern children. Teachers constantly learn themselves; they share their best practices by preparing training programs as well as reading the papers in seminars and conferences.
HOW THE ORGANISATION WILL CONTRIBUTE TO THE DISSEMINATION AND EXPLOITATION OF THE PROJECT RESULTS
Our school will public information about the project in website. Teachers will participate in project's activities: seminars, presentations, project results evaluation.