Associated Partners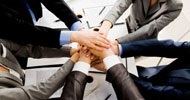 As a result of the exploitation activity a number of associated partners officially joined the project in order to contribute to the improvement of the project impact on their target groups and to ensure the project sustainability by continuing using the project deliverables in the next years.

The associate partners of the OFF-Book project are organizations interested in promoting the application of theatrical approach at school. All associated partners share the project objectives and are willing to contribute to their achievement.

Institutions and organisations interested in becoming associated partners of the OFF-Book project can contact the national coordinators of the project.
Back to the Associated Partners
NAME OF THE ORGANISATION
Rete educare ai diritti umani
TYPE OF INSTITUTION
Non-profit cultural assocation
WEB SITE
www.educareaidirittiumani.net
NAME OF CONTACT PERSON
Silvia Volpi
BRIEF DESCRIPTION OF THE ORGANISATION
REDU has been active informally since 2001 promoting a culture of human rights through local and national training courses, seminars, creation of educational and pedagogical materials and tools.
REDU board members were very active in coordinating the participative translation procedure of Compass manual of the Council of Europe from English to Italian (1st version), its promotion and dissemination in Italy.
Staff members were also involved in the testing phase of Compasito manual, offering an important contribution for its revision and edition.
Since 2007, REDU is a national network officially registered. The legal seat has been moved recently from Latina to Florence, because most of the staff members and volunteers are living and working in that area.
Among the main activities, we can mention the following:
- Translation and publication of Compass (1st edition)
- Translation of Compasito in cooperation with Arciragazzi and Arci Servizio Civile and its publication:
- Translaton of Compass (2nd edition), soon it will be published.
- In November 2015, REDU has organised in cooperation with LIBERA, FONDAZIONE KENNEDY and UNICOOP TIRRENO a national training course on human rights and human rights education, with a special focus on personal development as one of the main factors for change.
- In 2015-2016 REDU conducted workshops in Secondary Schools promoting NO HATE SPEECH attitudes and communication.
- From March to August 2016, REDU participated in Young Lab project, (Erasmus+ KA3) promoting structured dialogue for a better society;
- In 2016 evaluate Amnesty International project "Stop Bullying" (Erasmus+ KA2);
- Participated in the project Human Rights start at breakfast (Erasmus+ KA2): promoting human rights education tools for a peaceful world;
- In 2017 started a cooperation within ICARO project (Erasmus+ KA2) to face violence at school;
- In 2017 activated some counselling activities in secondary schools as in ISIS Fossombroni.
In 2017 promoted CO2 project to foster collaborative systems at local and national level and started to work on TEVIP project about European values and their translation in practice and on the STAR project against invisible racism.
In 2018, REDU is a regional point of coordination of the EU Campaign on NO HATE SPEECH.
HOW THE ORGANISATION WILL CONTRIBUTE TO THE DISSEMINATION AND EXPLOITATION OF THE PROJECT RESULTS
We will disseminate the project in our local and international events and we will use any material, document in our educational activities, when relevant for the promotion of human rights education.