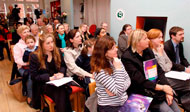 This section is meant to facilitate the sharing of information among partners as far as the dissemination events carried out are concerned.

A description of the event, the number of people participating and the evaluation of the event are available for each dissemination event.
Back to the Dissemination List
click here for the printable version

Partners' Institution:
Teatro Stabile di Grosseto

Name of the person involved in the event:
Alessandro Gatto Natascia Lauto Roberta Papi

Date of the event:
13 December 2017 - 13 December 2017

Type of Dissemination event:
Internal meeting

Target group:
Experts

Number of people reached by event:
6

Held in:
Grosseto (Italy)

Description of Dissemination Event:
As Teatro Stabile we organised an internal meeting with the staff of internal experts to share the OFF-book process during the next two years and to let them better understand their possible contribution.

Outcomes and Results:
1) Staff involvement in OFF-book project
2) Staff knowledge of the OFF-book main aims
3) Shared ideas about possible staff help and contribution
4) Staff of experts internal training about OFF-book project

Supporting Documents: