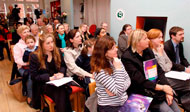 This section is meant to facilitate the sharing of information among partners as far as the dissemination events carried out are concerned.

A description of the event, the number of people participating and the evaluation of the event are available for each dissemination event.
Back to the Dissemination List
click here for the printable version

Partners' Institution:
Colegiul National de Arta "Octav Bancila"

Name of the person involved in the event:
Sabie Ovidiu-Adrian

Date of the event:
19 September 2019 - 19 September 2019

Type of Dissemination event:
Training Seminar

Target group:
Schools
Teachers

Number of people reached by event:
40

Held in:
Iasi ()

Description of Dissemination Event:
Local meeting between fine arts teachers, hosted by Colegiul National de Arta "Octav Bancila" on the 19.09.2019. Theme of the meeting was fine arts curricula, and at the beginning of it, teacher Sabie Ovidiu-Adrian had presented Erasmus+ project OFF-BOOK and his outcomes.

Outcomes and Results:
Teachers present at the meeting will apply in their classroom at least one TAB.

Supporting Documents: