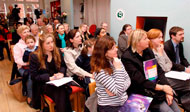 This section is meant to facilitate the sharing of information among partners as far as the dissemination events carried out are concerned.

A description of the event, the number of people participating and the evaluation of the event are available for each dissemination event.
Back to the Dissemination List
click here for the printable version

Partners' Institution:
Klaipeda University

Name of the person involved in the event:
Giedre Straksiene

Date of the event:
27 June 2019 - 28 June 2019

Type of Dissemination event:
Conference or Fair

Target group:
Enterprises
General Public
Public Bodies
Researchers
Training Agencies
Schools
Students
Teachers
Experts
Universities
Association

Number of people reached by event:
200

Held in:
Florence (Italy)

Description of Dissemination Event:
Education international conference, held in Florence (IT), on 27-28/06/2019, Giedre Straksiene had the opportunity to present the project aims and activities and results. She had a presentation on topic "Teachers' Attitudes Toward Theatrical Laboratories and Experiential Learning: Lithuanian Case". This article reports the main findings of a survey study designed to extend knowledge about secondary school teacher attitudes and experience toward the Theatrical Laboratories implemented in the project OFF-BOOK in non-formal education.

Outcomes and Results:
The Off-Book project results were presented to the participants of The Future of Education international conference.

Supporting Documents: