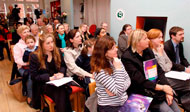 This section is meant to facilitate the sharing of information among partners as far as the dissemination events carried out are concerned.

A description of the event, the number of people participating and the evaluation of the event are available for each dissemination event.
Back to the Dissemination List
click here for the printable version

Partners' Institution:
University of Siena

Name of the person involved in the event:
Alessandra Viviani

Date of the event:
10 September 2018 - 12 September 2018

Type of Dissemination event:
Academic lectures

Target group:
Students

Number of people reached by event:
40

Held in:
Oneonta, N.Y. (United States)

Description of Dissemination Event:
Prof. Alessandra Viviani's lectures on Human Rights Education, at the Dept. of Educational Sciences of The State University of New York at Oneonta, within the module 'Teaching Methods in Social Sciences', 2nd & 3rd year students. During her lecturers, prof. Viviani talked at lenght of non formal and informal educational methods, taking as a successfull example the method and technique developped in the project.

Outcomes and Results:
Students were made aware of the project aims and in progress activities as well as the European Commission commitment in supporting new methods in teaching to combat school early leaving and discrimination in school.

Supporting Documents: