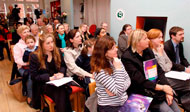 This section is meant to facilitate the sharing of information among partners as far as the dissemination events carried out are concerned.

A description of the event, the number of people participating and the evaluation of the event are available for each dissemination event.
Back to the Dissemination List
click here for the printable version

Partners' Institution:
Klaipėda Simon Dach progimnasium

Name of the person involved in the event:
Algimanta Liudaitė

Date of the event:
17 June 2018 - 21 September 2018

Type of Dissemination event:
Informative Mailing

Target group:
Schools

Number of people reached by event:
1

Held in:
Klaipėda (Lithuania)

Description of Dissemination Event:
The request to join OFF-BOOK as an associate partner has been sent to gymnasium in smaller town Naujoji Akmene, Lithuania. The reason for this — to get as many students (especially from smaller towns) involved in this project.

Outcomes and Results:
The dialogue between the schools have been created, all the questions have been answered. Waiting for the response.

Supporting Documents: